Intel LGA 2066 ATX motherboard with M.2 Heatsink, DDR4 4133MHz, Dual M.2, Intel VROC support, SATA 6Gb/s, Front-panel USB 3.1 Gen 2 connector 5-Way Optimization: One-click, system-wide tuning, delivering optimized overclocks and intelligent cooling for CPU or GPU-intensive tasks.
Industry-leading cooling options: Comprehensive controls for fans and water pumps, via Fan Xpert 4 software or the acclaimed ASUS UEFI.
M.2 heatsink: Ultra-efficient heatsink reduces M.2 SSD temperatures by up to 20°C for unthrottled SSD storage speeds and enhanced reliability.
Aura Sync: Controllable onboard RGB lighting that's easily synced with an ever-growing portfolio of Aura-capable hardware.
ASUS Prime X299-A is the ATX motherboard that's been expertly engineered for professional content creators and power users who work hard by day and play harder by night. This powerful, innovative board puts a friendly face on advanced enthusiast controls, enabling you to maximize performance, cooling and personalization with ease. So, if you live to create, to explore, to enjoy and to push the boundaries, look no further than Prime X299-A.
The smoothest, slickest mouse-controlled graphical BIOS has been improved to make it even more appealing. Whether you're a PC novice or a seasoned overclocker, the EZ and Advanced Modes help you find your way, quickly and easily.
OC design- ASUS PRO Clock II technology
A dedicated base-clock generator that extends CPU and memory overclocking margins. This custom solution works in tandem with the TPU to enhance voltage and base-clock overclocking control, providing the flexibility to extract every ounce of performance from Intel® Core™ X-series processors.
M.2
Speed up with onboard M.2 up to 32Gbps
With x4 PCI Express 3.0/2.0 bandwidth, M.2 supports up to 32Gbps data-transfer speeds. It is the perfect choice for an operating system or application drive, providing fast access to data.
M.2 heatsink
Keep your SSD cooler
Prime X299-A has an ultra-efficient heatsink to reduce M.2 SSD temperatures by up to 20°C — and that means optimal storage performance and improved SSD longevity.
Upgrade your RAID
Unleash the Prime X299-A Virtual RAID on CPU (VROC) feature with the addition of an ASUS Hyper M.2 X16 Card*, which allows you to attach up to four PCIe® 3.0 x16 M.2 drives — for a total bandwidth of up to 128Gbps. With VROC, you can utilize CPU PCIe lanes to configure a bootable RAID array, eliminating traditional DMI bottlenecks, so that storage transfers aren't held back by other traffic.
Intel Optane memory
Intel Optane memory ready
Intel Optane™ is a revolutionary non-volatile memory technology supported by Prime X299-A. Intel Optane memory modules accelerate attached storage to reduce boot and load times, so everything feels faster and more responsive.
USB 3.1 Gen 2 front-panel connector
Future-proof connectivity
Prime X299-A's front panel USB 3.1 connector is ready for next-gen PC cases and devices.
USB 3.1 Gen 2 Type-A & Type-C
Ultimate-speed 10Gbps with USB 3.1 onboard
With backward-compatible USB 3.1 Gen 2 Type-A™ and reversible USB 3.1 Gen 2 Type-C™ ports, you'll experience ultimate connection flexibility and blazing data-transfer speeds of up to 10Gbps.
ThunderboltEX 3 Card
Experience blistering ThunderboltTM 3 speeds and any-way-up connectivity
Prime X299-A offers support for ThunderboltEX 3 card, an Intel-certified Thunderbolt™ 3 add-on card enables breathtaking bi-directional speeds of up to 40Gbps through a single cable — up to 4X faster than other PC data-transfer protocols. Beyond sheer bandwidth, Thunderbolt 3 supports daisy-chaining up to six devices; utilizes a Type-C reversible connector for compatibility with the latest USB 3.1 Gen 2 Type-C devices; and supports the USB Power Delivery specification for fast, high-power charging of up to 36W.
Intel Ethernet
More throughput, less CPU usage and great gaming experiences
Prime X299-A features the latest Intel Ethernet. Intel's LAN has the advantage of reducing CPU overhead and offering exceptionally high TCP and UDP throughput for faster, smoother data transfer.
Multi-GPU support
With support for both NVIDIA® SLI™ and AMD CrossFireX™ 2/3-WAY configurations, Prime X299-A motherboard enables multi-GPU setups so you can harness the full power of the latest graphics technologies to drive games at 4K and beyond.
SafeSlot
Protect your Graphics Card Investment
SafeSlot* is the PCIe slot reinvented by ASUS and engineered to provide superior retention and shearing resistance. Manufactured in a single step using a new insert-molding process, SafeSlot integrates the slot with fortifying metal for an inherently stronger slot, which is then firmly anchored to the PCB through additional solder points.
Outstanding audio
Realtek codec and unique design features for pristine, powerful audio Prime X299-A utilizes a unique audio codec designed in close collaboration with Realtek — the Realtek S1220A. It also features an unprecedented 120dB signal-to-noise ratio for the stereo line-out and a 113dB SNR for the line-in, providing pristine audio quality. Additionally, a new impedance-sensing circuit automatically adjusts gain to ensure the optimal volume range for your headphones.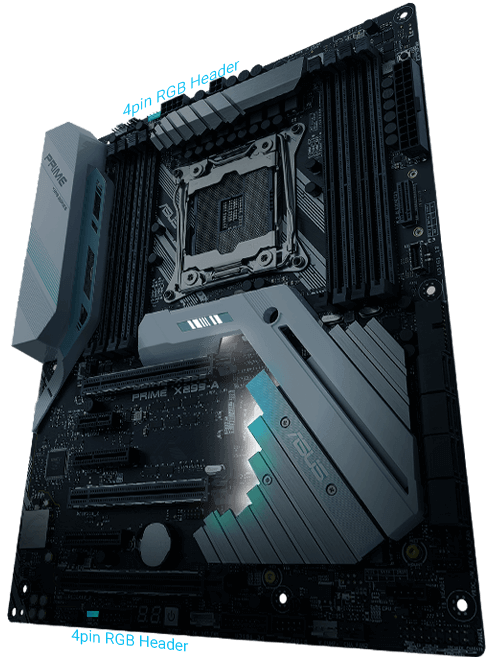 Aura Sync
Outshine your competition
A well-tuned enthusiast system deserves a matching aesthetic. ASUS Aura offers full RGB lighting control with a variety of functional presets for the built-in RGB LEDs as well as strips connected to the onboard RGB headers.* And it can all be synced with an ever-growing portfolio of Aura-capable ASUS hardware.
Exclusive 3D mount for easy installation
Make it your own
Dedicated 3D mounts on the motherboard makes fitting 3D-printed parts easy. Using the same screws as M.2 drives and standard motherboard mounting holes, you can easily add nameplates and cable covers.
FCLGA2066

Intel® Socket 2066 Core™ X-Series Processors
* The Intel® Turbo Boost Max Technology 3.0 support depends on the CPU types

Intel® X299 Express Chipset

DDR4

128GB

Intel® Core™ X-series Processors (6-core above)
8 x DIMM, Max. 128GB, DDR4 4000(O.C.)/3600(O.C.)/2666/2400/2133 MHz Non-ECC, Un-buffered Memory
Intel® Core™ X-series Processors (4-core)
4 x DIMM, Max. 64GB, DDR4 4000(O.C.)/3600(O.C.)/2666/2400/2133 MHz Non-ECC, Un-buffered Memory
* Hyper DIMM support is subject to the physical characteristics of individual CPUs.
* Refer to www.asus.com for the Memory QVL (Qualified Vendors Lists).

Supports NVIDIA® Quad-GPU SLI™ Technology
Supports NVIDIA® 3-Way SLI™ Technology
Supports NVIDIA® 2-Way SLI™ Technology
Supports AMD Quad-GPU CrossFireX™ Technology
Supports AMD 3-Way CrossFireX™ Technology

44-Lane CPU-
3 x PCIe 3.0/2.0 x16 (x16, x16/x16, x16/x16/x8)
2 x PCIe 3.0 x4 (max at x4 mode) *1
1 x PCIe 3.0/2.0 x1 *3
28-Lane CPU-
3 x PCIe 3.0/2.0 x16 (x16, x16/x8, x16/x8/x1) *4
2 x PCIe 3.0 x4 (max at x4 mode) *1
1 x PCIe 3.0/2.0 x1 *3
16-Lane CPU-
3 x PCIe 3.0/2.0 x16 (x16, x8/x8, x8/x8/x1) *4
2 x PCIe 3.0 x4 (max at x4 mode) *1
1 x PCIe 3.0/2.0 x1 *3

Intel® X299 Chipset :
1 x M.2 x4 Socket 3, with M key, type 2242/2260/2280 storage devices support (SATA & PCIE 3.0 x 4 mode)
1 x M.2 x4 Socket 3, with M key, type 2242/2260/2280/22110 storage devices support (PCIE 3.0 x 4 mode)
8 x SATA 6Gb/s port(s)
Support Raid 0, 1, 5, 10
Supports Intel® Smart Response Technology, Intel Rapid Start Technology
Intel® Optane™ Memory Ready

Intel® I219V, 1 x Gigabit LAN Controller(s), featuring Turbo LAN
ASUS Turbo LAN Utility
ASUS LAN Guard

Realtek® ALC S1220A 8-Channel High Definition Audio CODEC
- Impedance sense for front and rear headphone outputs
- Internal audio Amplifier to enhance the highest quality sound for headphone and speakers
- Supports : Jack-detection, Multi-streaming, Front Panel Jack-retasking
Audio Feature :
- DTS Connect
- DTS Headphone:X
- Optical S/PDIF out port(s) at back panel
- Audio Shielding: Ensures precision analog/digital separation and greatly reduced multi-lateral interference
- Dedicated audio PCB layers: Separate layers for left and right channels to guard the quality of the sensitive audio signals
- Premium Japanese-made audio capacitors: Provide warm, natural and immersive sound with exceptional clarity and fidelity
- Unique de-pop circuit: Reduces start-up popping noise to audio outputs
- EMI protection cover to prevent electrical noise to affect the amplifier quality
Separate layer for left and right track, ensuring both sound deliver equal quality

ASMedia® USB 3.1 Gen 2 controller :
1 x USB 3.1 Gen 2 port(s) (1 at mid-board)
ASMedia® USB 3.1 Gen 2 controller :
2 x USB 3.1 Gen 2 port(s) (Type-A + USB Type-CTM)
Intel® X299 Chipset :
8 x USB 3.1 Gen 1 port(s) (4 at back panel, , 4 at mid-board)
Intel® X299 Chipset :
4 x USB 2.0 port(s) (4 at back panel, , 2 at mid-board)

1 x AAFP connector
2 x Aura RGB Strip Header
2 x USB 3.1 Gen 1 connector(s) support(s) additional 4 USB 3.1 Gen 1 port(s)
1 x USB 2.0 connector(s) support(s) additional 2 USB 2.0 port(s)
1 x M.2 Socket 3 with M key, type 2242/2260/2280 storage devices support (SATA & PCIE 3.0 x 4 mode)
1 x M.2 Socket 3 with M key, type 2242/2260/2280/22110 storage devices support (PCIE 3.0 x 4 mode)
8 x SATA 6Gb/s connector(s)
1 x M.2_FAN connector
1 x VROC_HW_Key
1 x CPU Fan connector(s)
1 x CPU OPT Fan connector(s)
2 x Chassis Fan connector(s)
1 x AIO_PUMP connector
1 x W_PUMP+ connector
1 x Thunderbolt header(s)
1 x 24-pin EATX Power connector(s)
1 x 8-pin ATX 12V Power connector(s)
1 x 4-pin ATX 12V Power connector(s)
1 x System panel(s) (Q-Connector)
1 x 5-pin EXT_FAN(Extension Fan) connector
1 x MemOK! button(s)
1 x Thermal sensor connector(s)
1 x Power-on button(s)
1 x Clear CMOS jumper(s)
1 x USB 3.1 Gen 2 front panel connector
1 x CPU_OV jumper

WfM 2.0, DMI 3.0, WOL by PME, PXE

1 x LAN (RJ45) port(s)
2 x USB 3.1 Gen 2 Type-A + USB Type-CTM
4 x USB 3.1 Gen 1
2 x USB 2.0 (one port can be switched to USB BIOS Flashback)
1 x Optical S/PDIF out
5 x Audio jack(s)
1 x USB BIOS Flashback Button(s)

ATX Form Factor
12 inch x 9.6 inch ( 30.5 cm x 24.4 cm )

128 Mb Flash ROM, UEFI AMI BIOS, PnP, DMI3.0, WfM2.0, SM BIOS 3.0, ACPI 6.0, Multi-language BIOS,
ASUS EZ Flash 3, CrashFree BIOS 3, F11 EZ Tuning Wizard, F6 Qfan Control, F3 My Favorites, Last Modified log, F12 PrintScreen and ASUS DRAM SPD (Serial Presence Detect) memory information

OC Design - ASUS PRO Clock II Technology
ASUS Dual Intelligent Processors 5-Way Optimization by Dual Intelligent Processors 5 :
- 5-Way Optimization tuning key perfectly consolidates TPU, EPU, DIGI+ VRM, Fan Xpert 4, and Turbo Core App
AURA :
- Aura RGB Strip Headers
- Aura Lighting Effects Synchronization with compatible ASUS ROG devices
ASUS Exclusive Features :
- USB BIOS Flashback
- MemOK!
- AI Suite 3
- Ai Charger
- Onboard Button : Power
- ASUS UEFI BIOS EZ Mode featuring friendly graphics user interface
- Turbo LAN
- Crystal Sound 3
File Transfer
- Cloud GO!
- File Transfer
ASUS EZ DIY :
- ASUS EZ Flash 3
- ASUS USB BIOS Flashback
- ASUS UEFI BIOS EZ Mode
- Multi-language BIOS
ASUS Q-Design :
- ASUS Q-Shield
- ASUS Q-Code
- ASUS Q-LED (CPU, DRAM, VGA, Boot Device LED, HDD LED)
- ASUS Q-Slot
- ASUS Q-DIMM
- ASUS Q-Connector
Gaming Aesthetics :
- 3D printing friendly
- AURA-RGB Lighting
M.2 Onboard(The latest transfer technologies with up to 32Gb/s data transfer speeds)

شرکت لایف برد، نماینده رسمی در ایران, شرکت سازگار ارقارم، نماینده رسمی در ایران

مادربرد ایسوس ASUS PRIME X299-A LGA 2066 ATX M.2 Heatsink DDR4 4133MHz VROC support USB 3.1 Gen 2 connector
توليد کننده:
Asus Co