Core/Memory
Boost Clock / Base Clock / Memory Frequency
1683 MHz / 1569 MHz / 11124 MHz (OC)
1657 MHz / 1544 MHz / 11016 MHz (Gaming)
1582 MHz / 1480 MHz / 11016 MHz (Silent)
11GB GDDR5X
Double Cooling Power
Full coverage, dual cooling: featuring Corsair Hydro series H55 thermal design, efficient liquid cooling for the GPU and air cooling for the memory and VRMs.
Efficient heat transfer circulation pump, silent wide diameter fan and easy-to-install aluminum radiator ensure greatest cooling performance.
Gaming App
Instant Performance Gain: Unlock extra performance or keep your card silent during light use in one click.
One Click To VR: A single click by setting all key components to high performance settings.
Mobile APP: Control your graphics card from your phone.
THE ULTIMATE PC GAMING PLATFORM
Get Game Ready with GeForce® GTX.
GeForce GTX graphics cards are the most advanced ever created. Discover unprecedented performance, power efficiency, and next-generation gaming experiences.
Nvidia
VR READY
Discover next-generation VR performance, the lowest latency, and plug-and-play compatibility with leading headsets—driven by NVIDIA VRWorks™ technologies. VR audio, physics, and haptics let you hear and feel every moment.
THE LATEST GAMING TECHNOLOGIES
Pascal is built to meet the demands of next generation displays, including VR, ultra-high-resolution, and multiple monitors. It features NVIDIA GameWorks™ technologies for extremely smooth gameplay and cinematic experiences. Plus, it includes revolutionary new 360-degree image capture.
PERFORMANCE
Pascal-powered graphics cards give you superior performance and power efficiency, built using ultra-fast FinFET and supporting DirectX™ 12 features to deliver the fastest, smoothest, most power-efficient gaming experiences.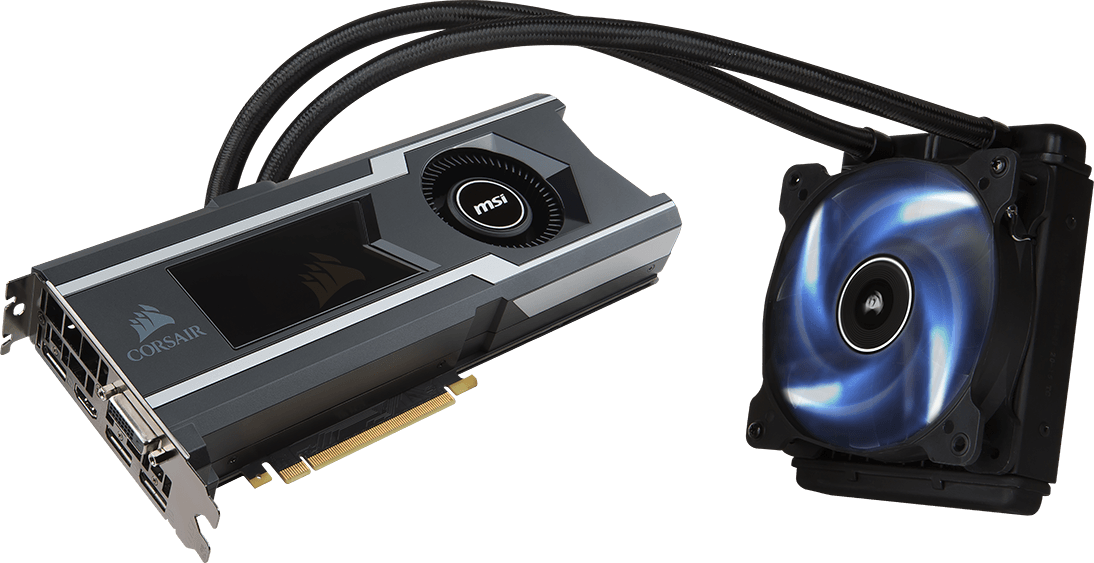 SUPREME LIQUID COOLING PERFORMANCE
Liquid cooling for the GPU and air cooling for the memory and VRMs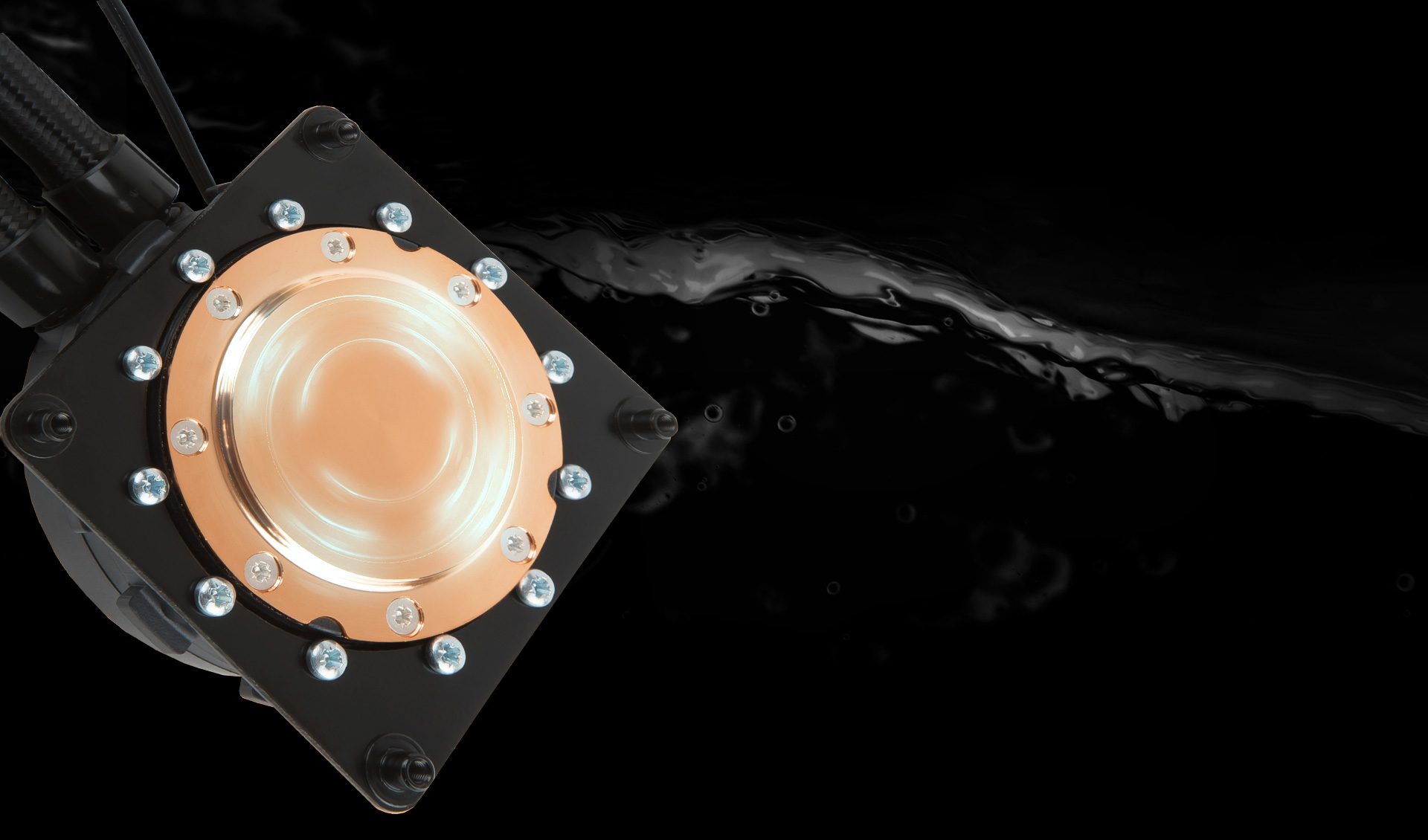 SILENT 120MM FAN
Wide diameter fan ensures silent operation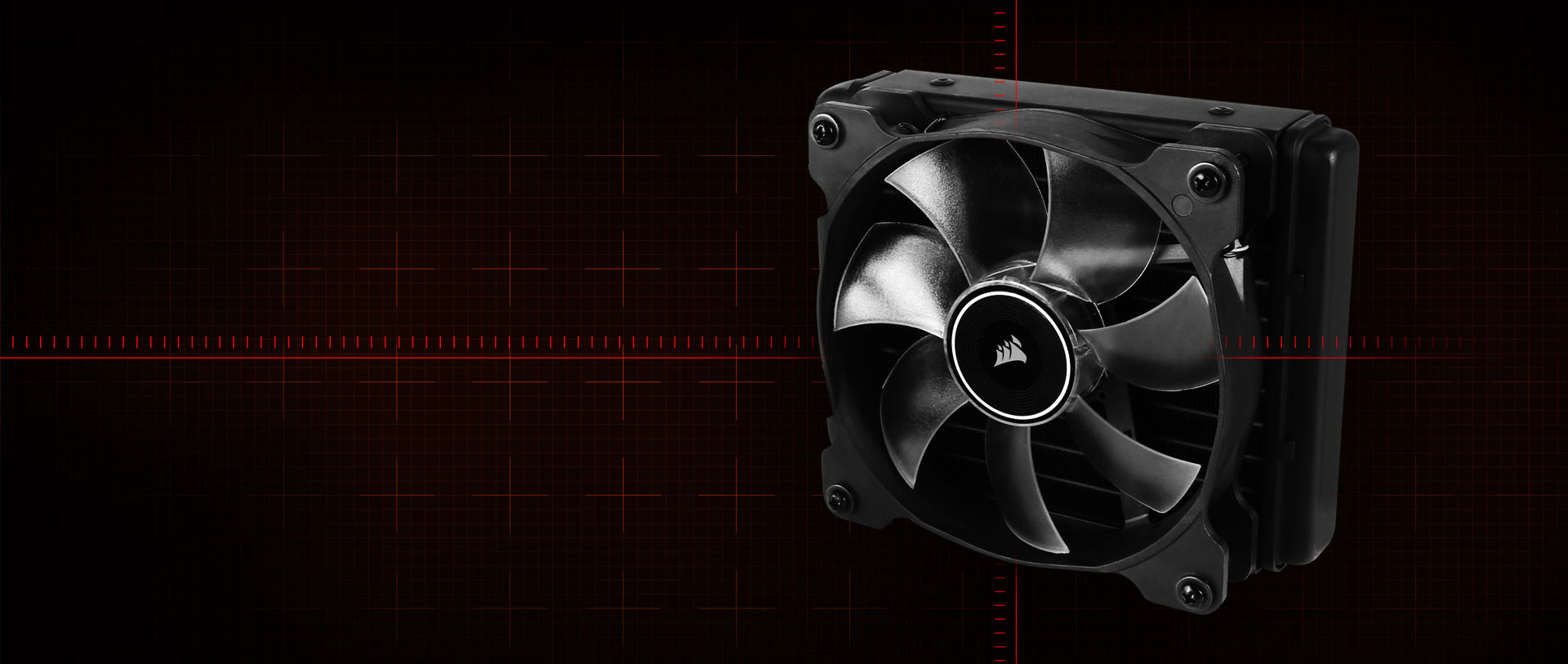 ALUMINUM
HEAT RADIATOR
Low-profile, easy to install black aluminum radiator reduces airflow demand and looks great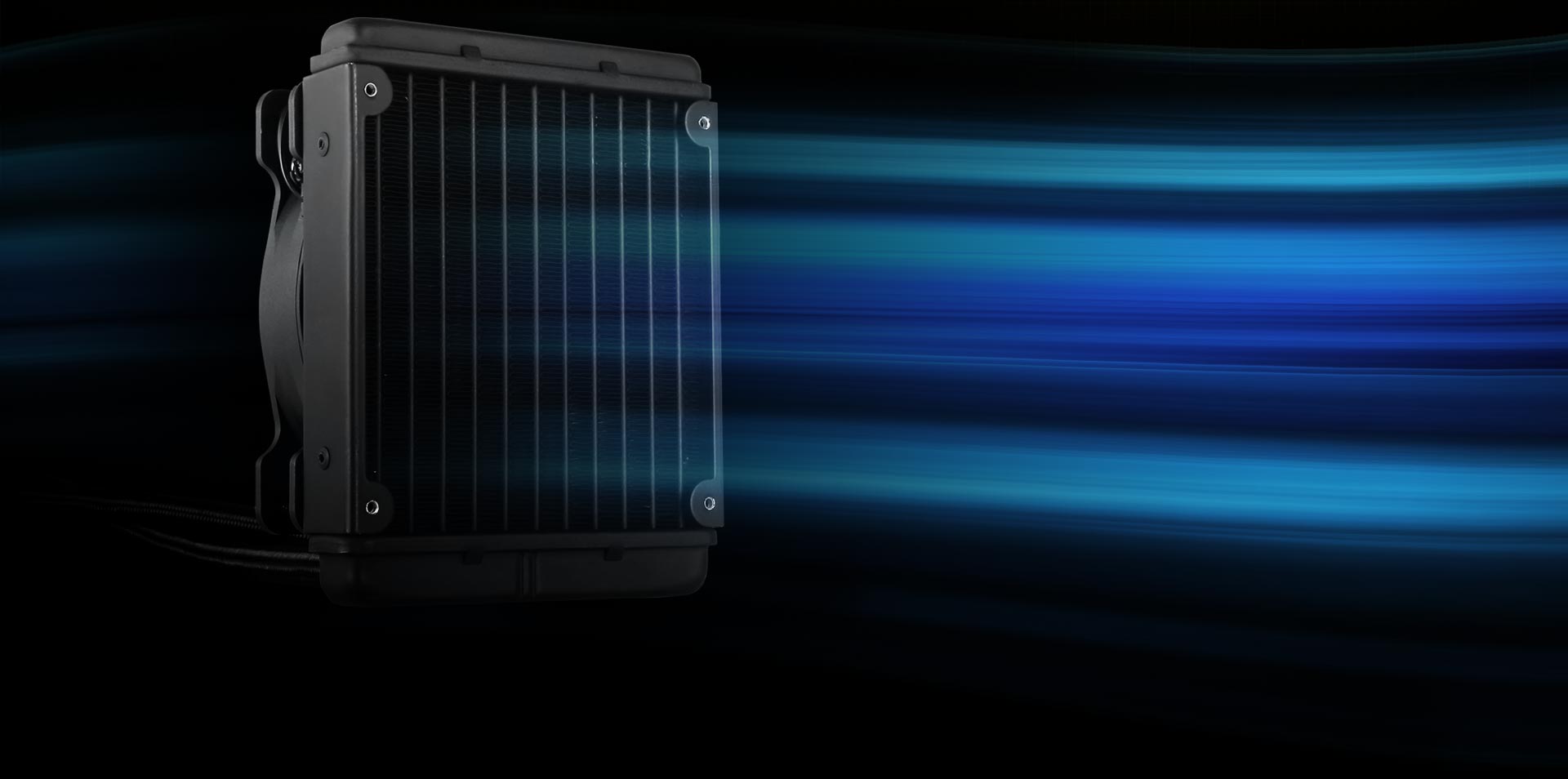 EASY TO INSTALL
Closed-loop cooling solution that requires no additional maintenance or assembly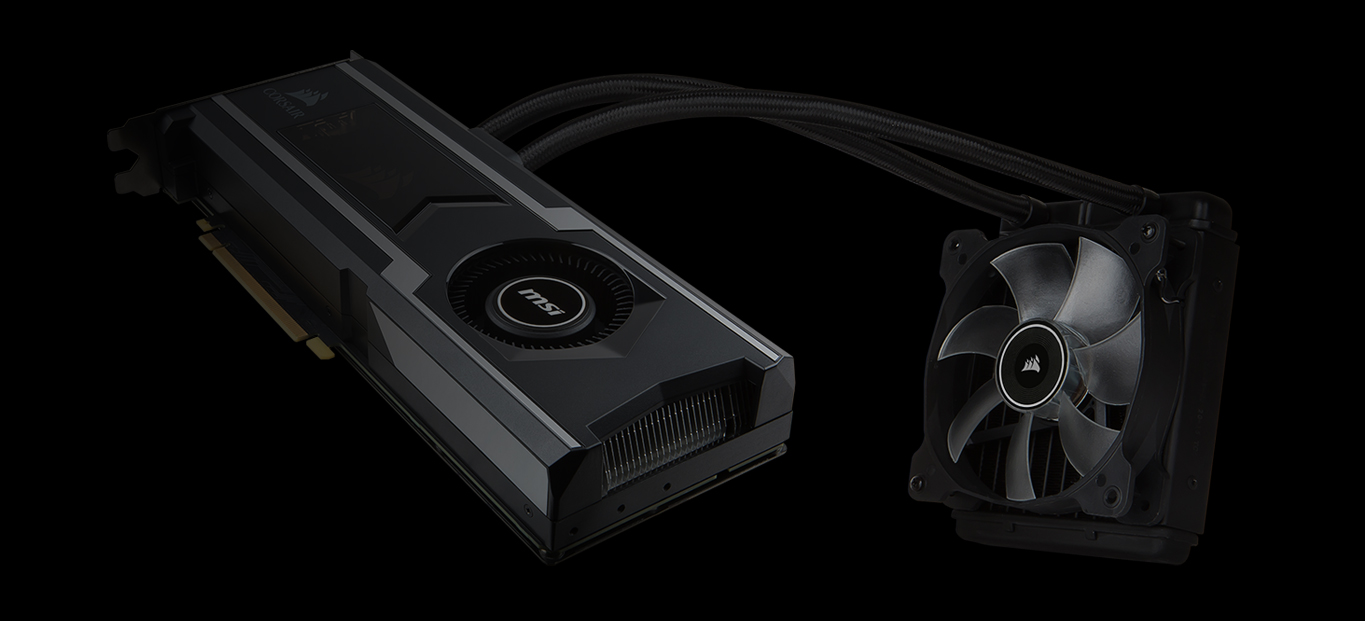 CATCHING THE VIBE WITH COOL LED EFFECTS
Featuring a premium LED illuminated MSI logo which can be controlled with the exclusive MSI Gaming App to lighten the mood.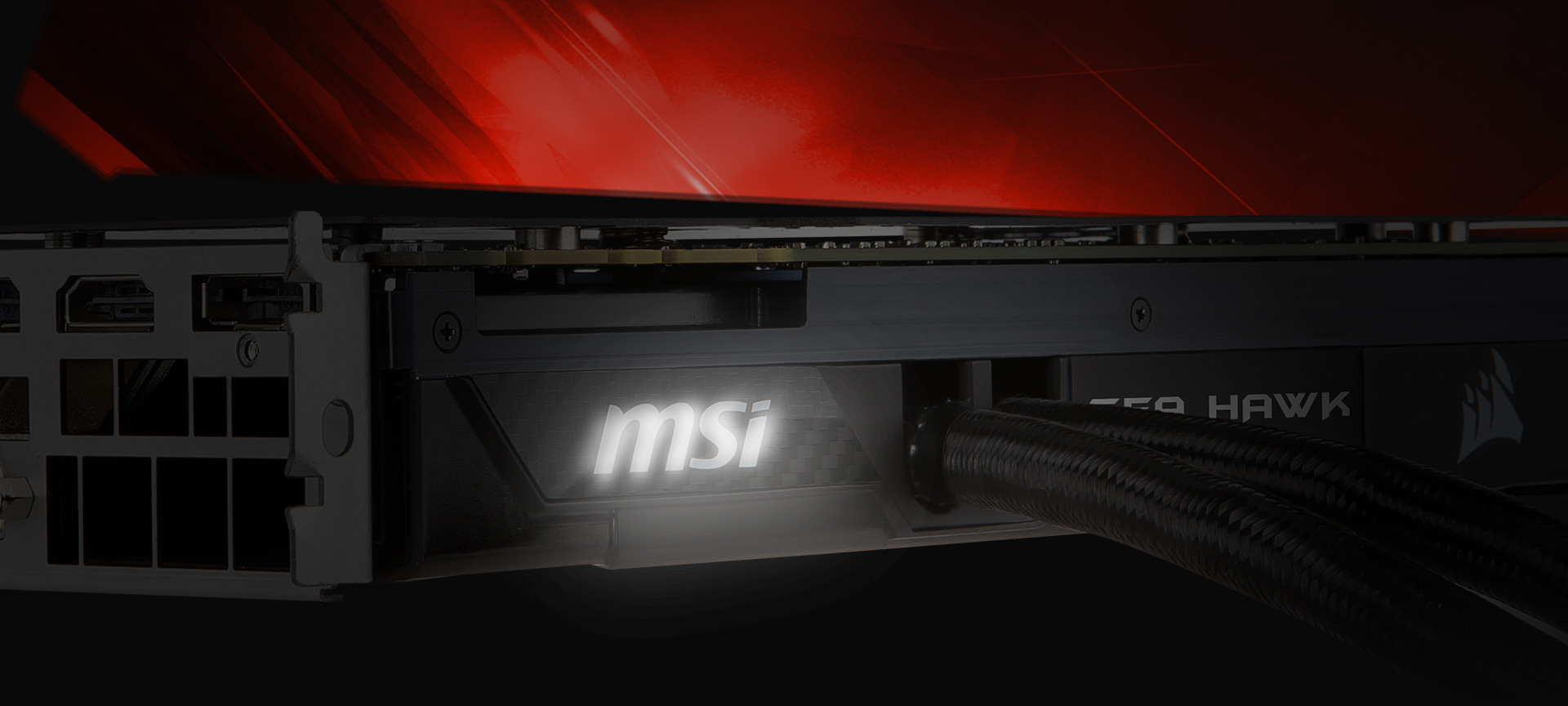 BACKPLATE
A powerful graphics card needs a strong build to harness its performance. MSI SEA HAWK graphics cards are fitted with a solid metal backplate to make it extra tough. The matte black finish fits perfectly with its sleek design.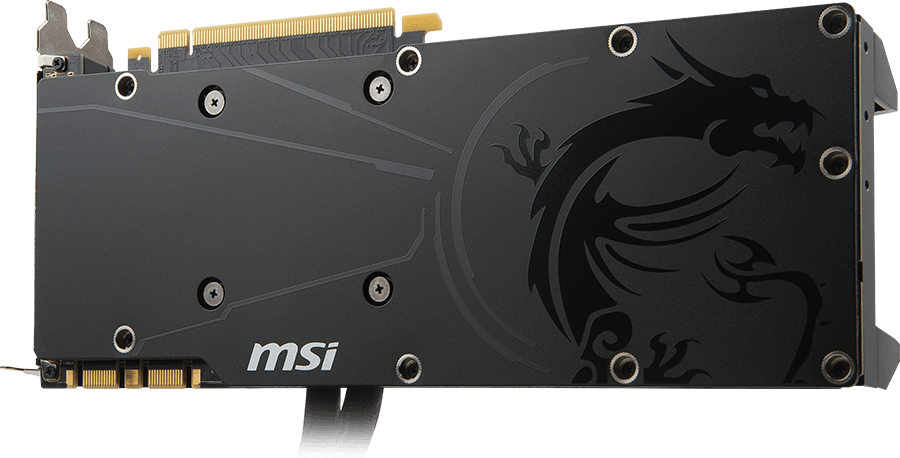 THE FUTURE OF GAMING
gSYNC
The smoothest, fastest and most exciting gaming experience ever by eliminating screen tearing, display shutter and input lag.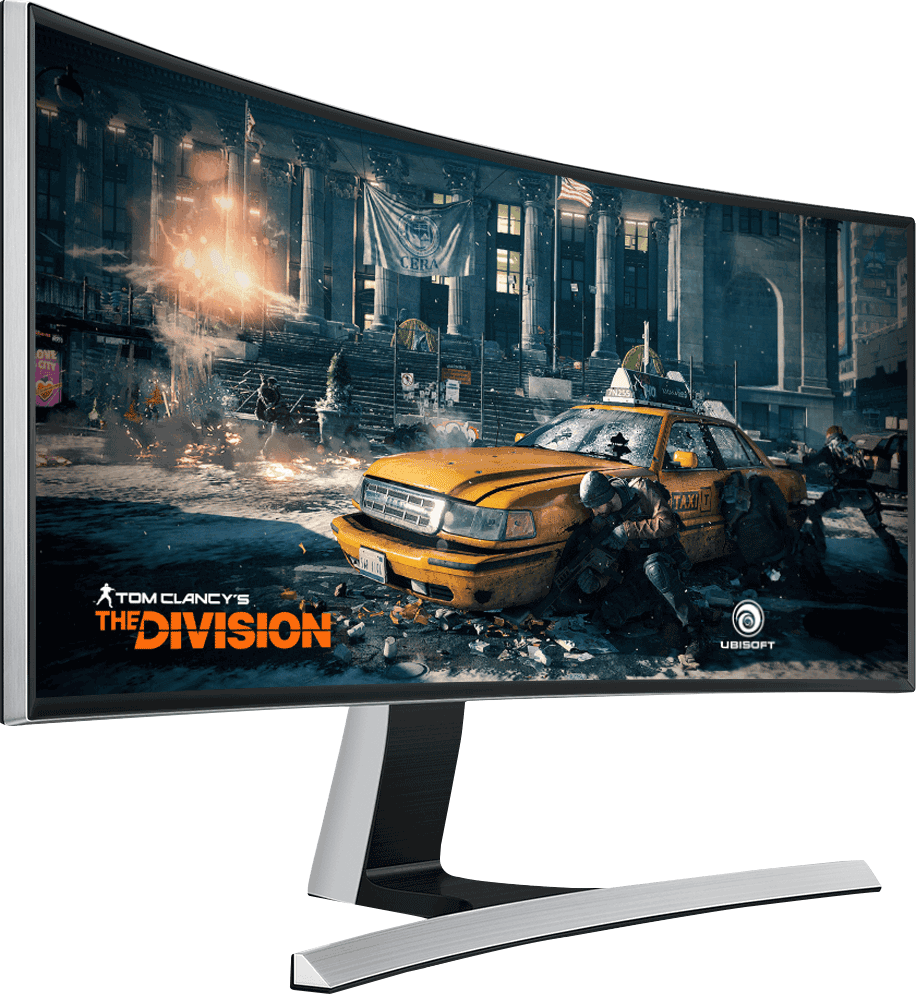 PREPARE FOR VR WITH MSI
To experience and enjoy the impressive world of Virtual Reality, high-performance hardware is required. MSI, world leading brand in high-end gaming and eSports, provides the right advice to make sure your system is VR Ready. Integrating the very best of cutting edge technologies in recommended MSI VR gaming hardware for smooth performance. Together with our VR partners, MSI brings gamers an extremely realistic VR experience where games come alive.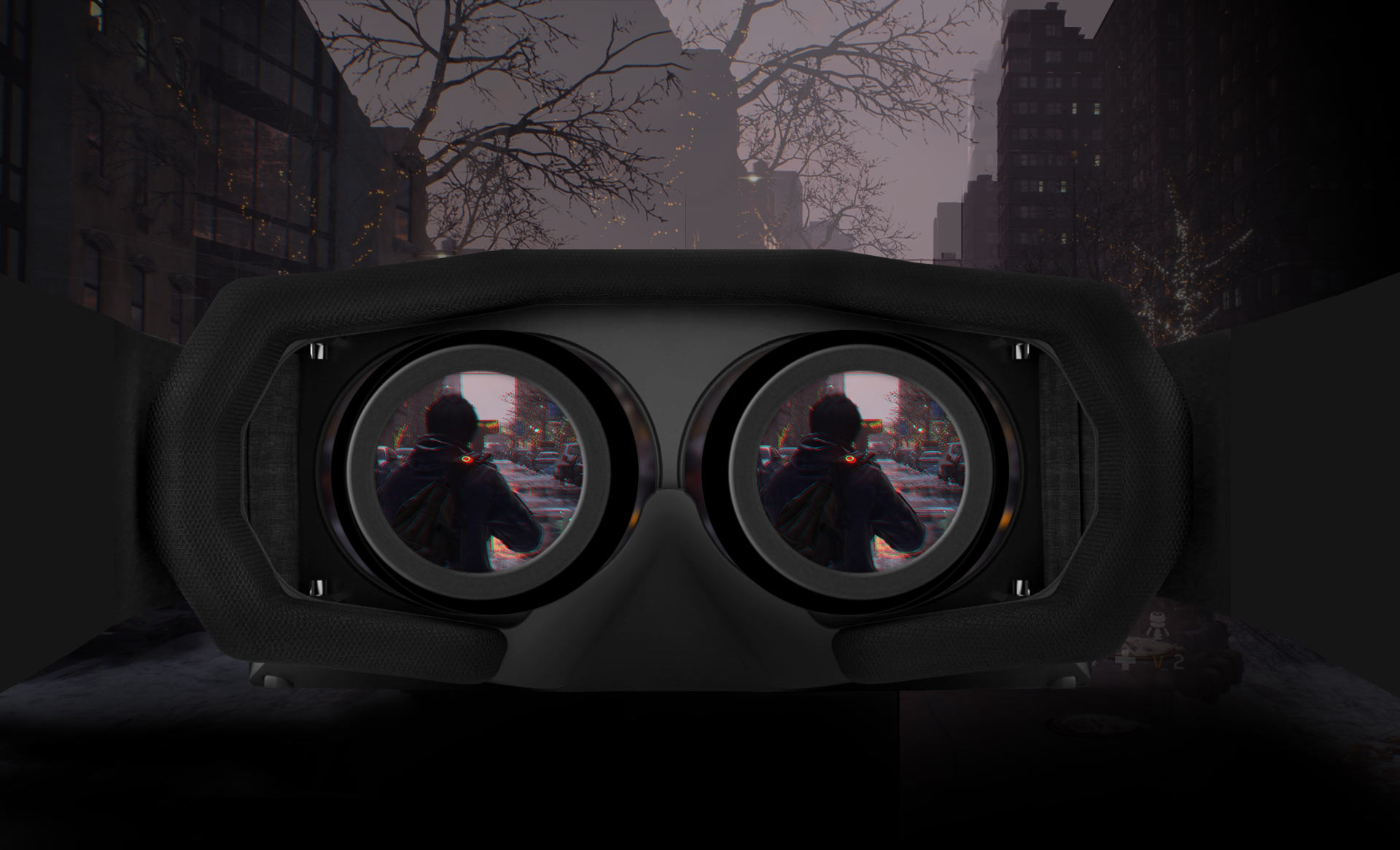 One Click to VR
WITH GAMING APP
To get the best VR experience, you need your PC to deliver maximum performance. The MSI Gaming App gets your PC primed for VR use in just a single click by setting all key components to high performance settings and making sure other software applications do not impact your VR adventure.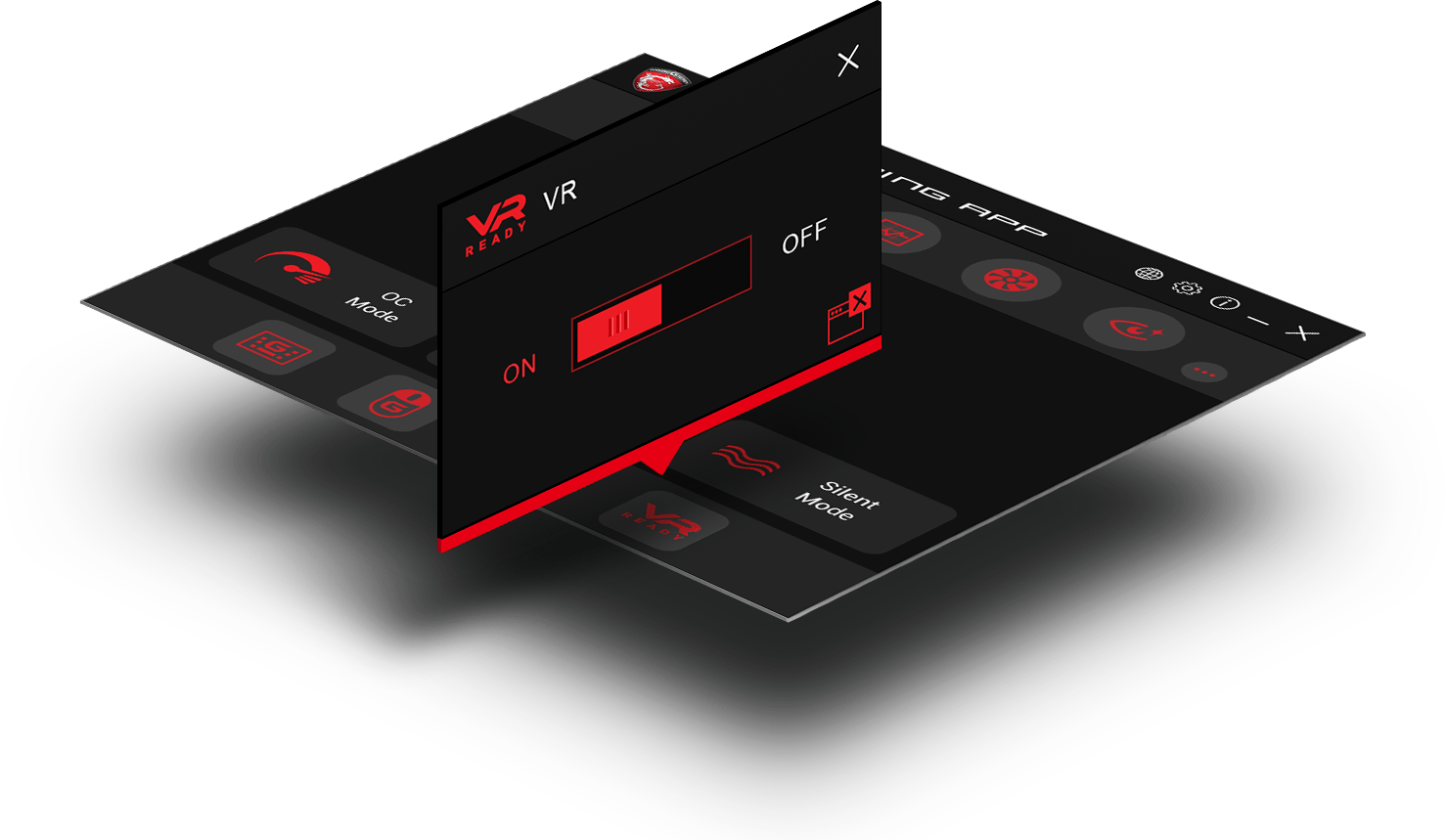 ONLY EVERYTHING IN 3D!
TriDef VR enables gamer to play their favorite games in 3D on your HMD(head mounted display). DirectX 9,10 and 11 games have been pre-configured to generate an optimal 3D experience using GenMe's industry leading 2D-to-3D conversion technology. TriDef VR allows users to tweak their HMD to provide optimal user experience. It is compatible with both Oculus Rift and HTC Vive. It also offers an unique head tracked, hands-free user interface to allow users to launch games at will while wearing HMD. Most importantly, MSI offers a 3-month free license to let gamers to fully benefit from the TriDef and get more from their VR.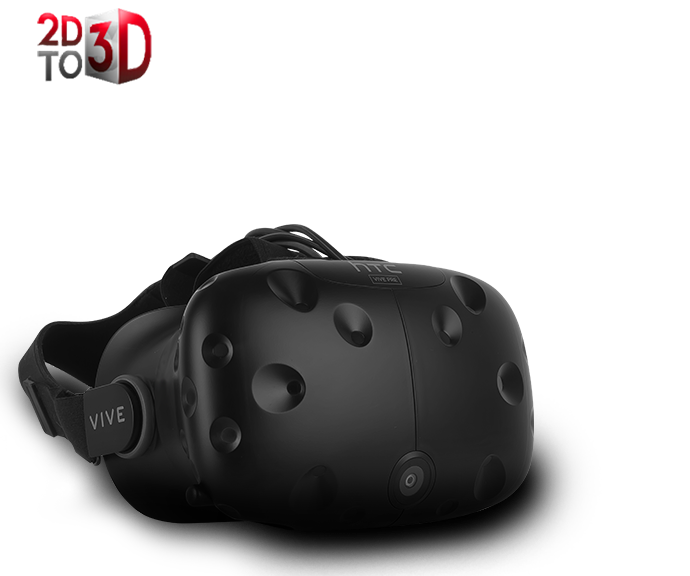 GAMING APP
The MSI Gaming App allows for one-click performance profiles that unlock extra performance for gaming or keep your card silent during light use. It also features the EyeRest tab, giving you easy access to image quality improving technology. The LED control tab gives you full control over your MSI GAMING LED lights to set the mood.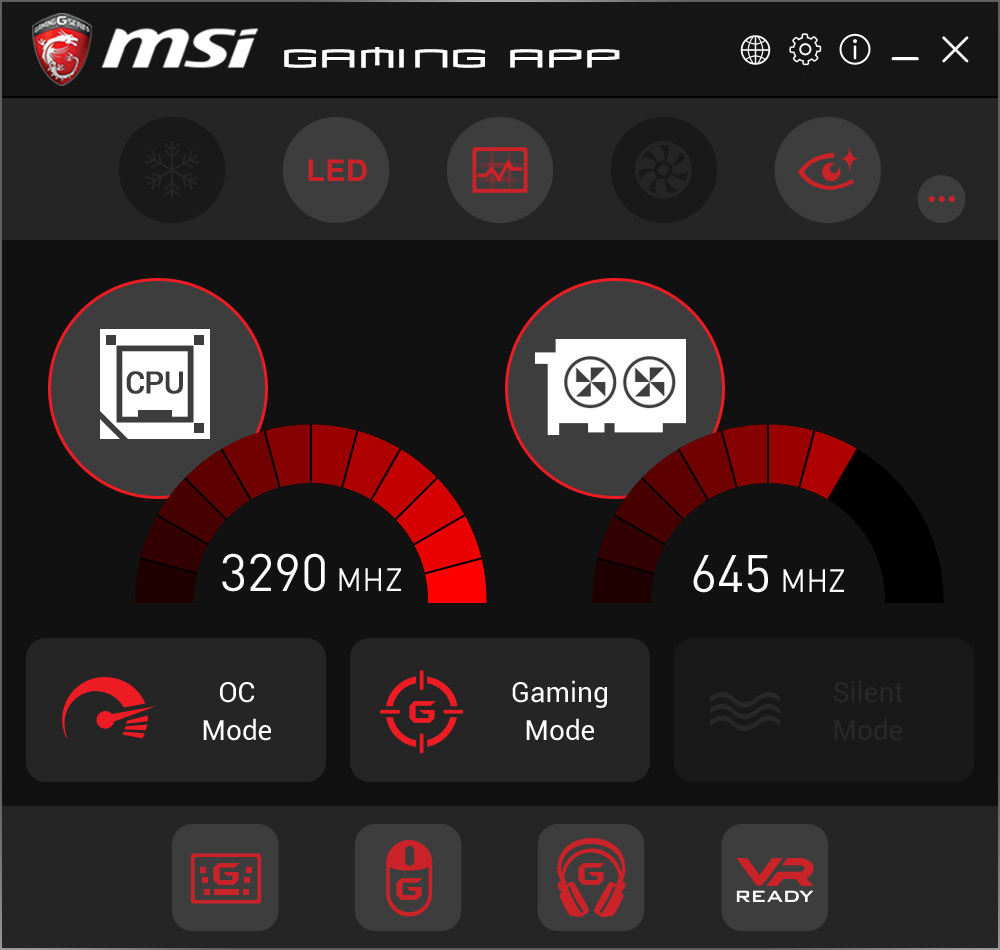 ON-SCREEN SPEED & TEMPERATURES
Real-time monitoring of GPU Core, DRAM Frequency, GPU & CPU Temperatures and much more, in game or in other fullscreen applications, customizable to your preference. gaming app
ios googleplay MOBILE GAMING APP
The exclusive MSI Gaming App is now also available for Android so you can control your graphics card from your phone without having to switch to Windows. AioDragonEye
A DIFFERENT VIEW ON GAMING
MSI Dragon Eye allows you to watch a YouTube video or Twitch Stream while playing a game simultaneously. Simply add a link or stream to the Dragon Eye application and select the size, position, volume and transparency and start gaming. With a few hotkeys you can start/pause your video or set the volume.
WANT TO SHOW OFF YOUR SKILLS OR JUST MAKE A FUN GAMING VIDEO FOR YOUR FRIENDS?
XSplit Gamecaster & Broadcaster V2 lets you easily record your gaming moments and broadcast your live gameplay sessions to Twitch, YouTube, UStream and more.
It's simple, easy to use and ideal for sharing your gameplay with friends, family or the world - Or for capturing those perfect gaming moments, just for the heck of it.
So what are you waiting for? Join the revolution and start streaming and recording with XSplit Gamecaster today. How to ACTIVATE MSI PREMIUM LICENSE Assemble and edit your recordings using the simple and straightforward video editor. Game Capture Auto Detect allows for automatic streaming when starting a game.
WEBCAM & CHROMA KEY
Add a webcam and show your game face
SHARE YOUR BROADCAST
Share your broadcast and conquer the world
REALTIME NOTES
Draw attention whilst casting with in-game annotations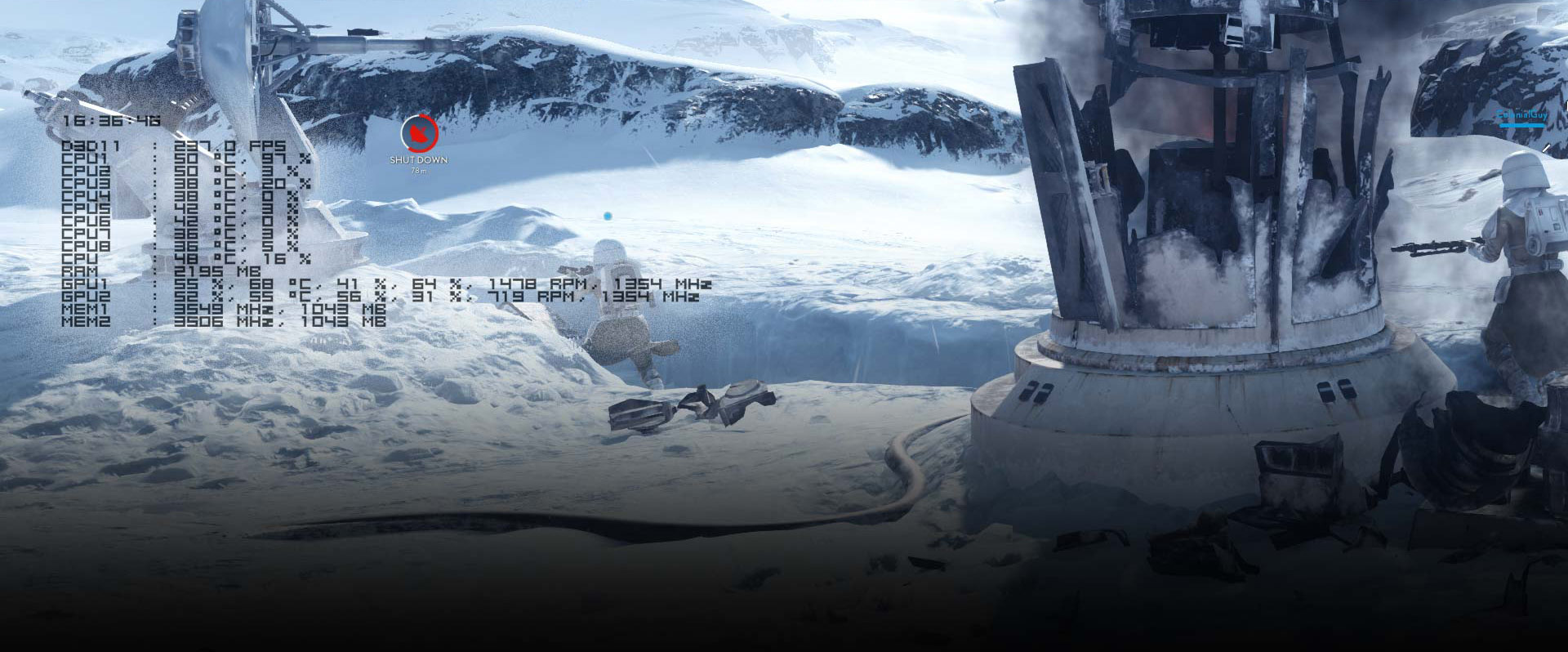 AFTERBURNER
MSI Afterburner is the world's most recognized and widely used graphics card overclocking utility which gives you full control of your graphics cards. It also provides an incredibly detailed overview of your hardware and comes with some additional features such as customizing fan profiles, benchmarking and video recording.
مشخصات فنی
1683 MHz / 1569 MHz (OC)
1657 MHz / 1544 MHz (Gaming)
1582 MHz / 1480 MHz (Silent)

11124 MHz (OC ) 11016 MHz (Gaming / Silent)

DisplayPort x 3 / HDMI / DL-DVI-D

Card: 269 x 111 x 35 mm Cooler: 151 x 120 x 52 mm Tube: 330 x 10.6 mm

شرکت گرین نماینده رسمی در ایران

کارت گرافیک MSI GeForce GTX 1080 Ti SEA HAWK X Hybrid Cooling Liquid 1683MHz Memory 11124MHz Corsair Hydro series 55 MICRO-FIN COPPER BASE ALUMINUM HEAT RADIATOR