Core/Memory Boost Clock / Base Clock / Memory Frequency
1683 MHz / 1569 MHz / 11124 MHz (OC Mode)
1657 MHz / 1544 MHz / 11016 MHz (Gaming Mode)
1582 MHz / 1480 MHz / 11016 MHz (Silent Mode)
11GB GDDR5X
RGB Mystic Light Customize colors and LED effects with exclusive MSI software and synchronize the look & feel with other components.
TORX FAN 2.0: Supremely silent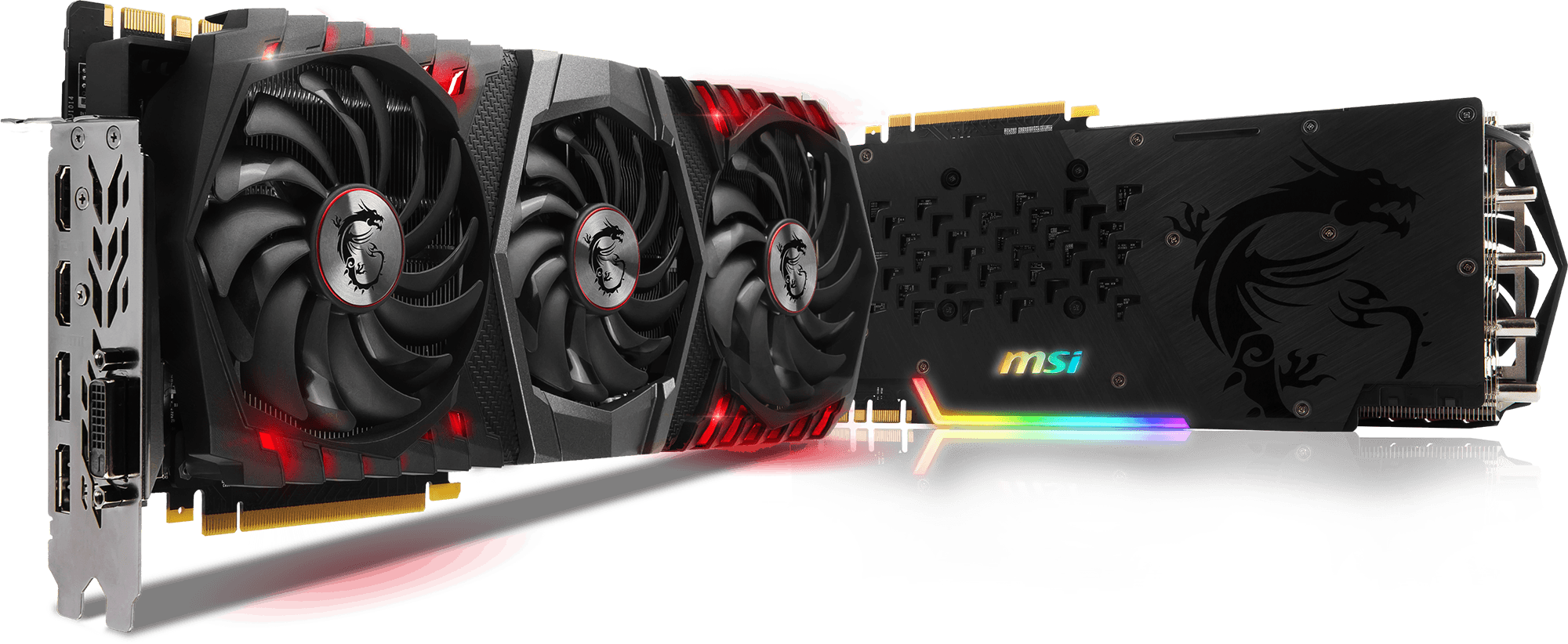 Dispersion fan blade: Steeper curved blade accelerating the airflow.
Traditional fan blade: Provides steady airflow to massive heat sink below.
Double ball bearing: Strong and lasting core for years of smooth gaming.
TRI-FROZR Thermal Design Using three of the award-winning TORX 2.0 Fans with Double Ball Bearings.
Gaming App Instant Performance Gain: Unlock extra performance or keep your card silent during light use in one click.
THE ULTIMATE PC GAMING PLATFORM
Get Game Ready with GeForce® GTX. GeForce GTX graphics cards are the most advanced ever created. Discover unprecedented performance, power efficiency, and next-generation gaming experiences. Nvidia
VR READY
Discover next-generation VR performance, the lowest latency, and plug-and-play compatibility with leading headsets—driven by NVIDIA VRWorks™ technologies. VR audio, physics, and haptics let you hear and feel every moment. THE LATEST GAMING TECHNOLOGIES
Pascal is built to meet the demands of next generation displays, including VR, ultra-high-resolution, and multiple monitors. It features NVIDIA GameWorks™ technologies for extremely smooth gameplay and cinematic experiences. Plus, it includes revolutionary new 360-degree image capture. PERFORMANCE
Pascal-powered graphics cards give you superior performance and power efficiency, built using ultra-fast FinFET and supporting DirectX™ 12 features to deliver the fastest, smoothest, most power-efficient gaming experiences.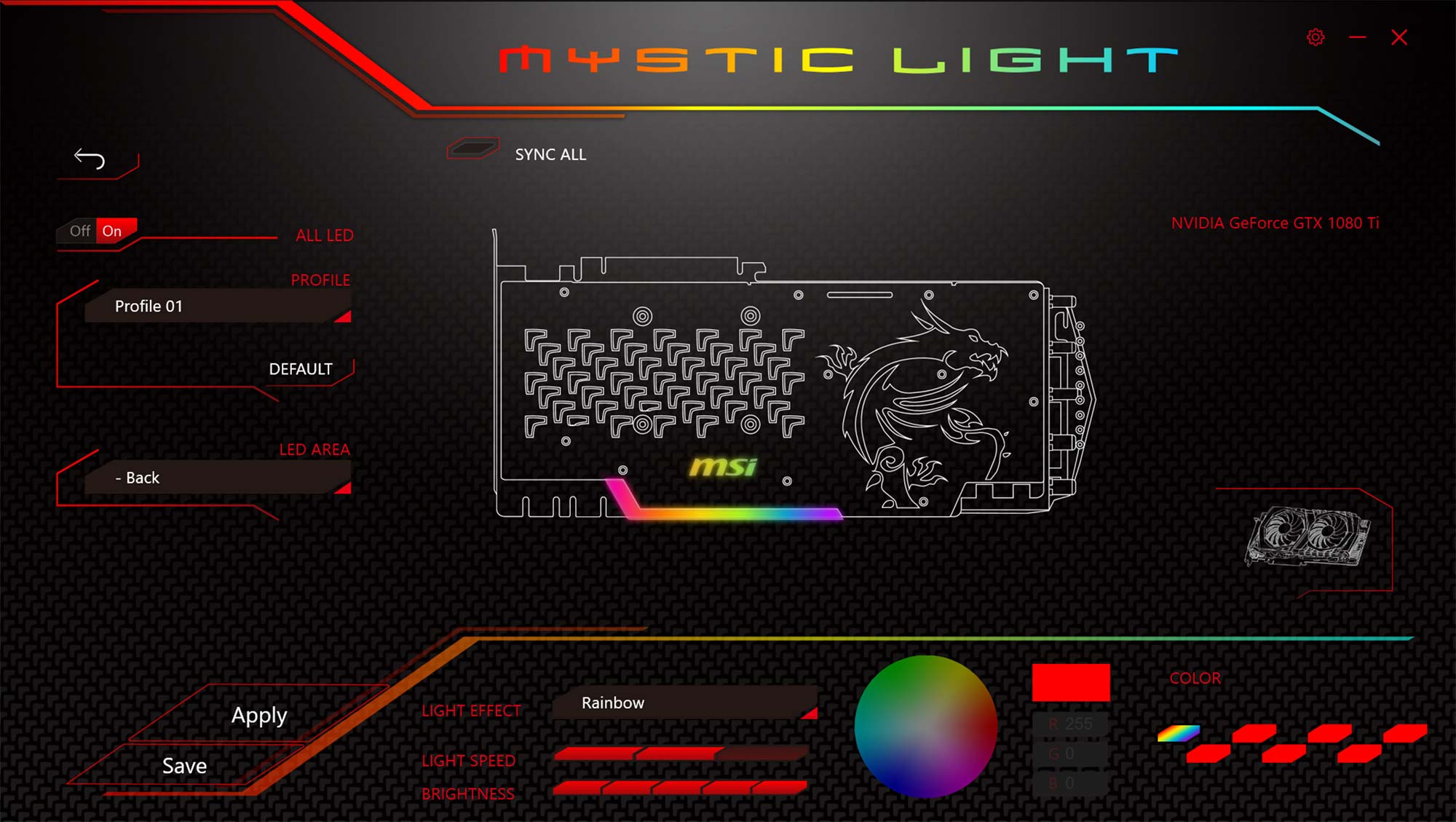 MYSTIC LIGHT
The latest iteration of Mystic Light RGB offers even more choices than before, with the astonishing L-shaped light bar, symmetrical red dragon claw lights. The LED lights are divided into three zones, each of which can be individually controlled.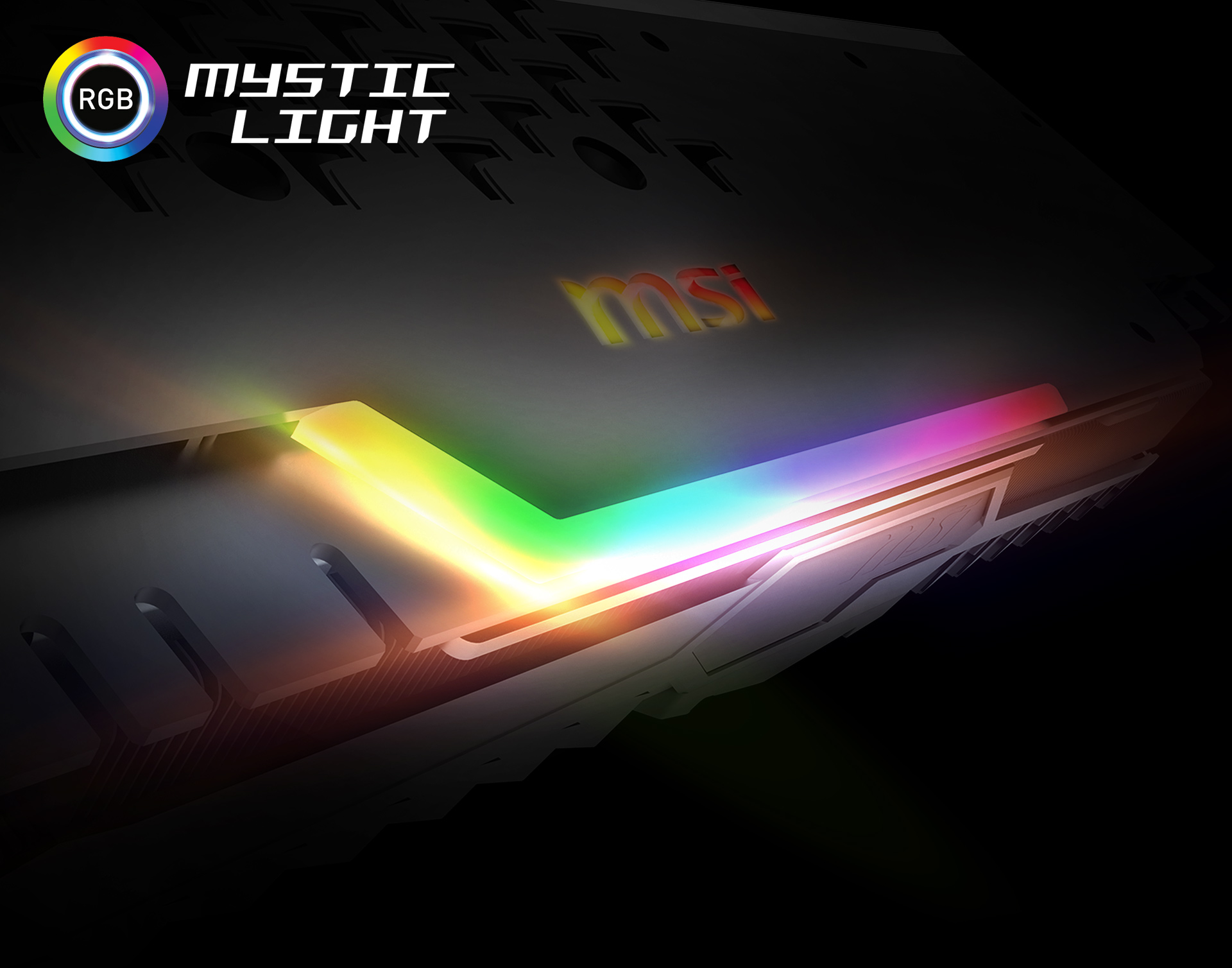 MYSTIC LIGHT SYNC
With the convenience of Mystic Light Sync, you can control all the RGB components from other brands from your PC or smartphone.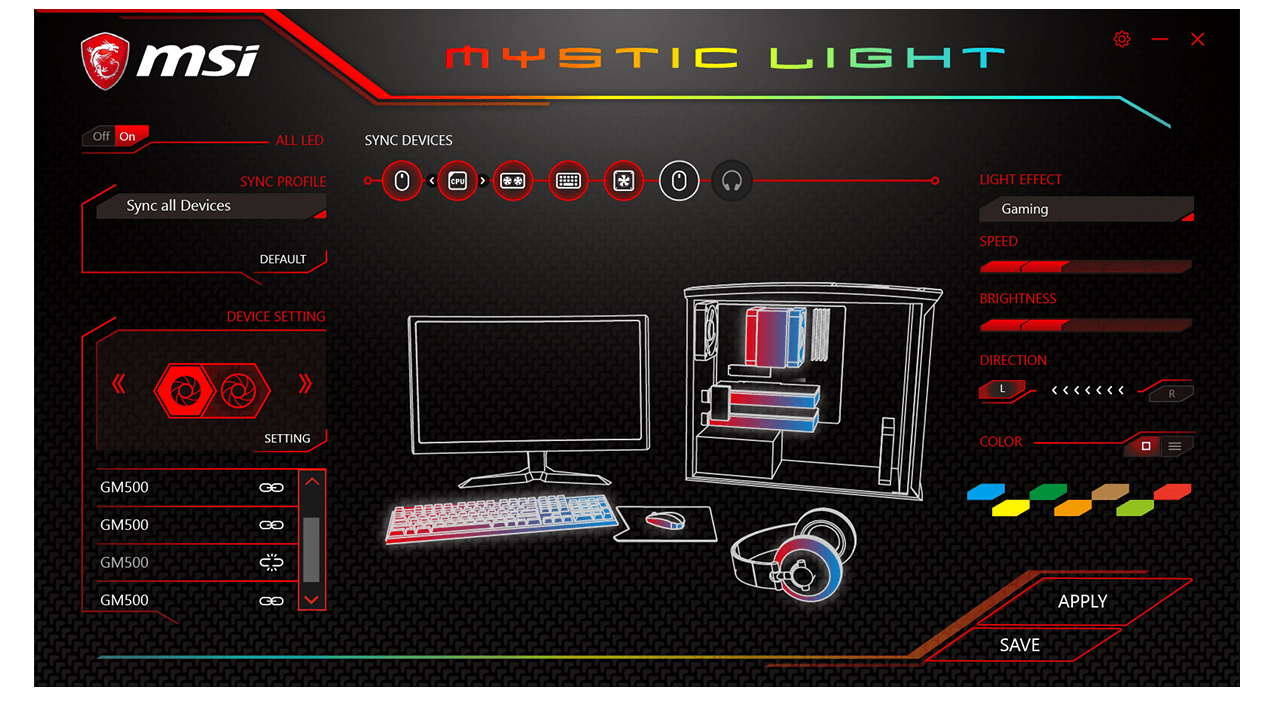 TRI-FROZR THERMAL DESIGN
Using three of the award-winning TORX 2.0 Fans with Double Ball Bearings.
TORX 2.0 FAN
TEAMWORK FOR GREATER STRENGTH
Just like in games, the exclusive MSI TORX 2.0 Fan technology uses the power of teamwork to allow the TRI-FROZR Thermal Design to achieve new levels of cool. TORX 2.0 Fan design generates 22% more air pressure for supremely silent performance in the heat of battle.
Dispersion Fan Blade
has a steeper curved blade which accelerates the airflow, increasing its effectiveness.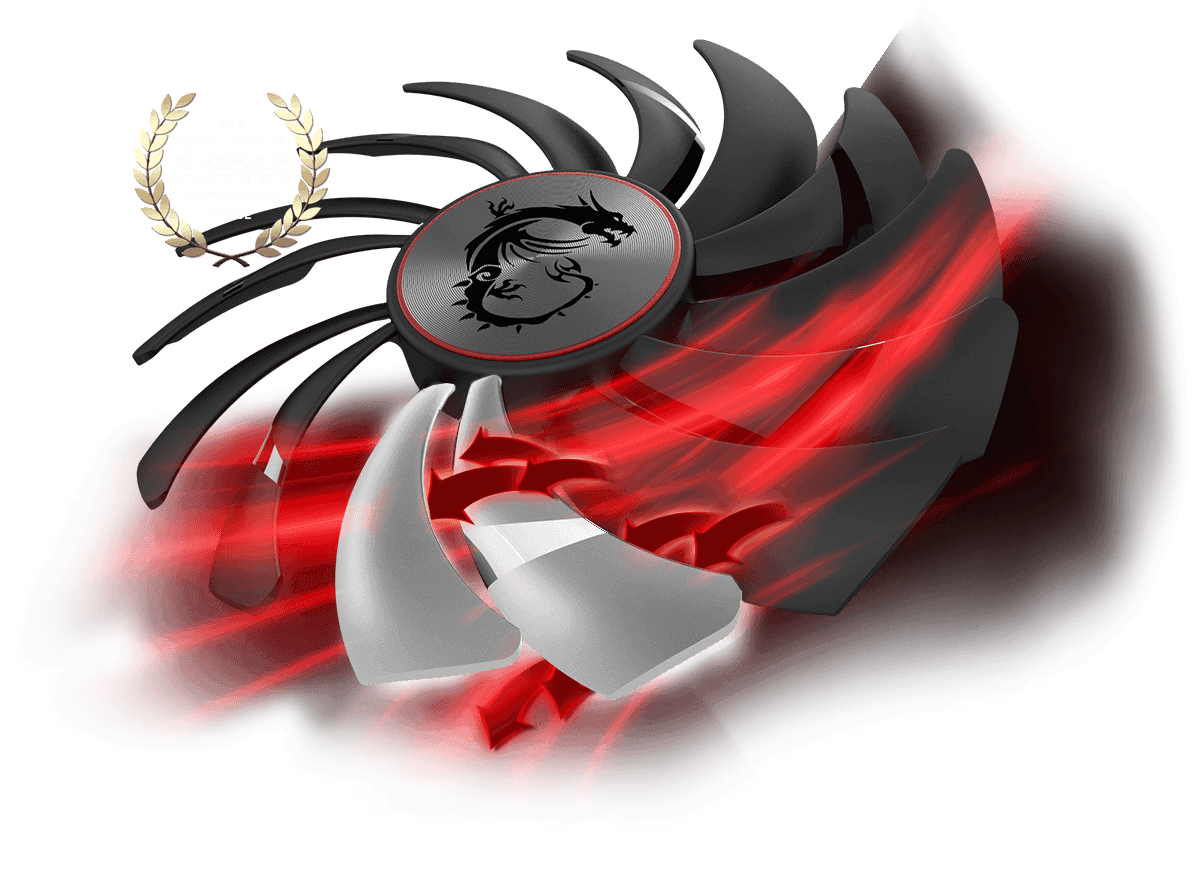 Traditional Fan Blade
pushes down a steady airflow to the massive heatsink below.

DOUBLE BALL BEARINGS
Double Ball Bearings give the unique MSI TORX 2.0 Fans a strong and lasting core for years of smooth gaming. They also remain virtually silent while spinning under load, keeping your graphics card cool during intense and lengthy gaming sessions. trox
ZERO FROZR-STAY UNDETECTED
First introduced in 2008 by MSI, ZeroFrozr technology has made its mark and is now the industry standard among graphics cards. It eliminates fan noise by stopping the fans in low-load situations. This means you can focus on gaming without the noise of spinning fans.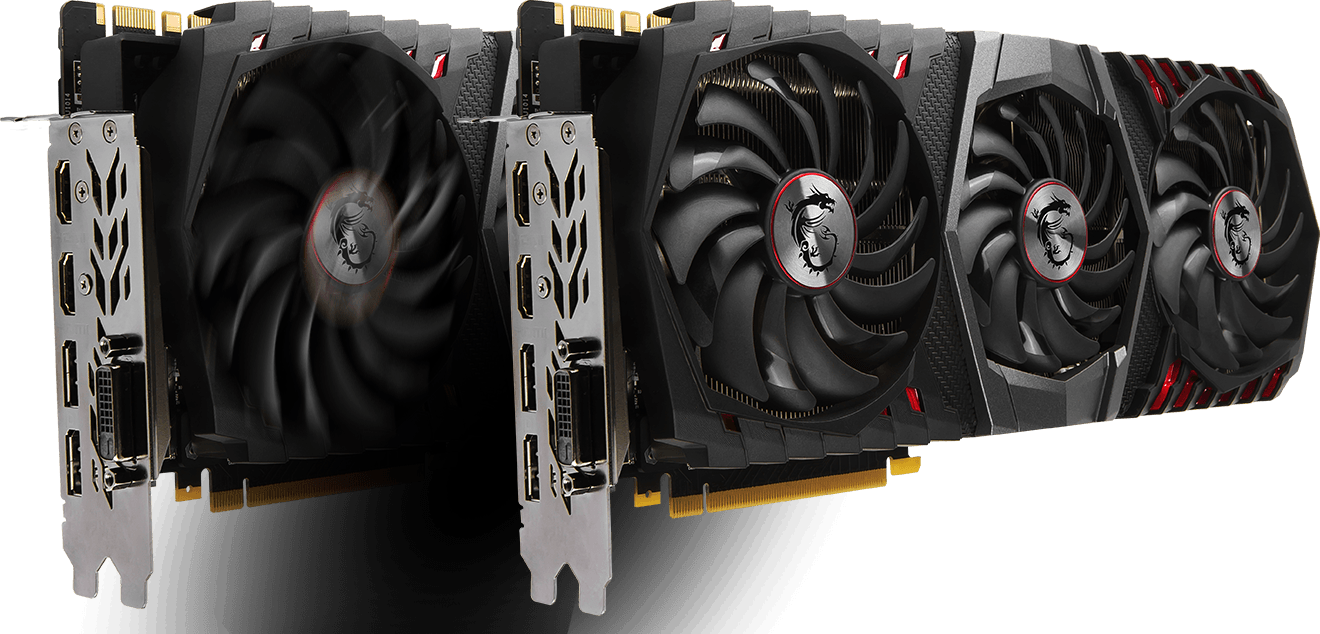 HEATSINK
Lurking under the cover of the new TRIO graphics card is an engineering masterpiece. Every tiny detail of the intricate heatsink plays an essential part in providing a cool & quiet gaming experience.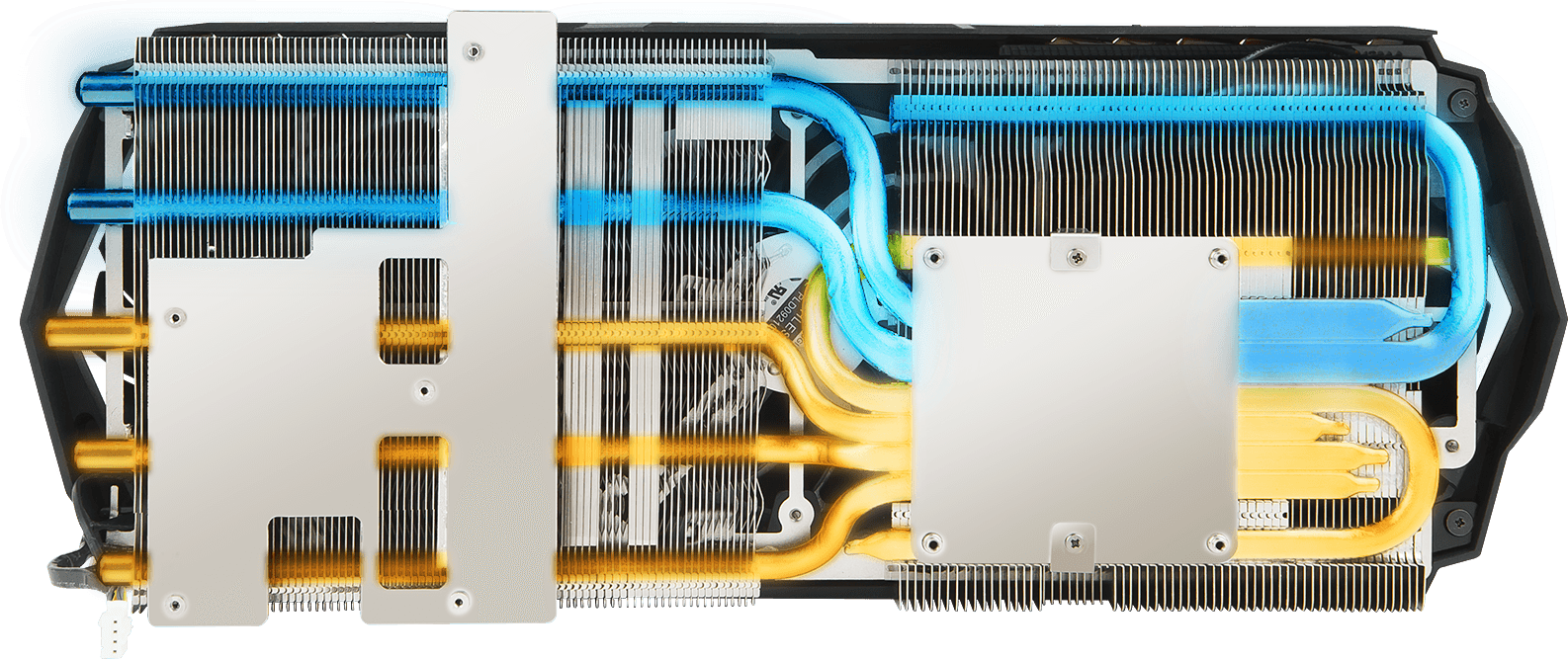 WAVE-CURVED COOLING SYSTEM
The new TRIO uses enhanced Wave-curved fins that split the airflow and increases 10% effective heat dissipation area and better cooling performance compared to traditional fins. SMOOTH HEAT PIPES
2 Super pipes and 4 heatpipes with a smooth squared shape at the bottom maximize heat transfer from the surface to the copper base plate.
SOLID BASEPLATE
To temper the heat from GPU and Power phase, MSI GAMING series graphics cards use a solid nickel-plated copper base plate and weld-in MOSFET heatsink to transfer the heat to the heat pipes for dissipation.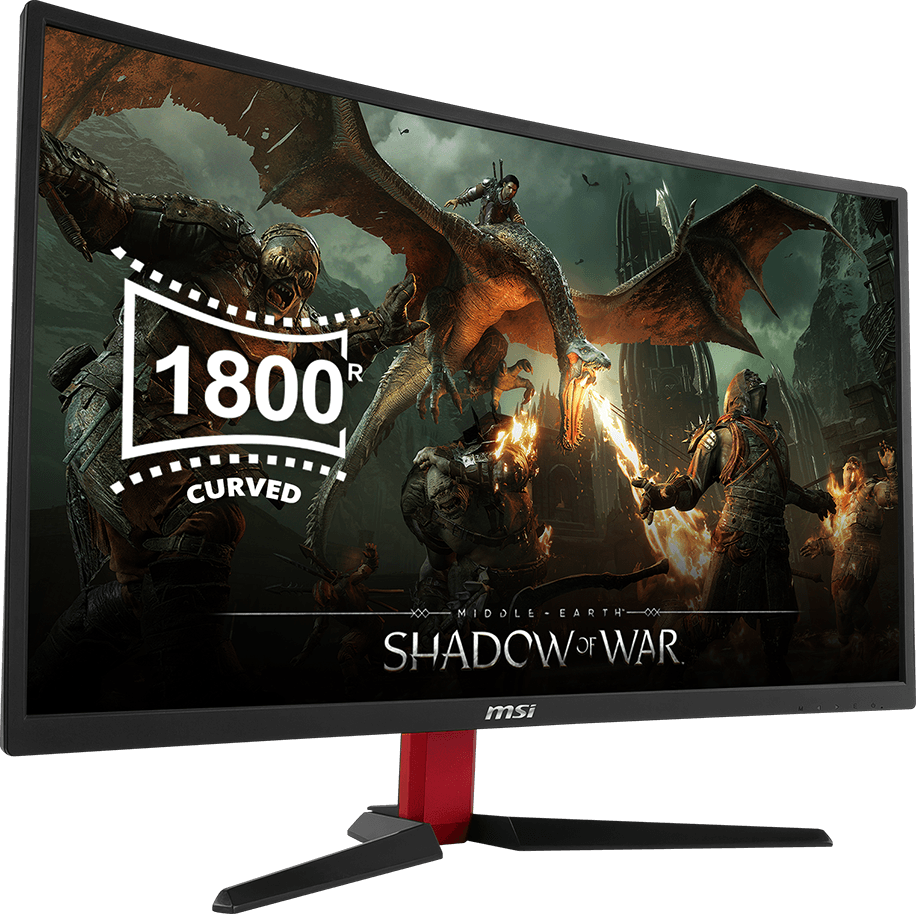 THE FUTURE OF GAMING
The smoothest, fastest and most exciting gaming experience ever by eliminating screen tearing, display shutter and input lag.
Ultra-high resolution (UHD) delivers 4x the resolution of 1080p content, enabling much sharper and crisper images with delicate details during gaming. High Dynamic Range (HDR) enhances your gaming world with higher contrast and brighter colors than you've ever seen before.

PREPARE FOR VR WITH MSI
To experience and enjoy the impressive world of Virtual Reality, high-performance hardware is required. MSI, world leading brand in high-end gaming and eSports, provides the right advice to make sure your system is VR Ready. Integrating the very best of cutting edge technologies in recommended MSI VR gaming hardware for smooth performance. Together with our VR partners, MSI brings gamers an extremely realistic VR experience where games come alive.
ONLY EVERYTHING IN 3D!
TriDef VR enables gamer to play their favorite games in 3D on your HMD(head mounted display). DirectX 9,10 and 11 games have been pre-configured to generate an optimal 3D experience using GenMe's industry leading 2D-to-3D conversion technology. TriDef VR allows users to tweak their HMD to provide optimal user experience. It is compatible with both Oculus Rift and HTC Vive. It also offers an unique head tracked, hands-free user interface to allow users to launch games at will while wearing HMD. Most importantly, MSI offers a 3-month free license to let gamers to fully benefit from the TriDef and get more from their VR.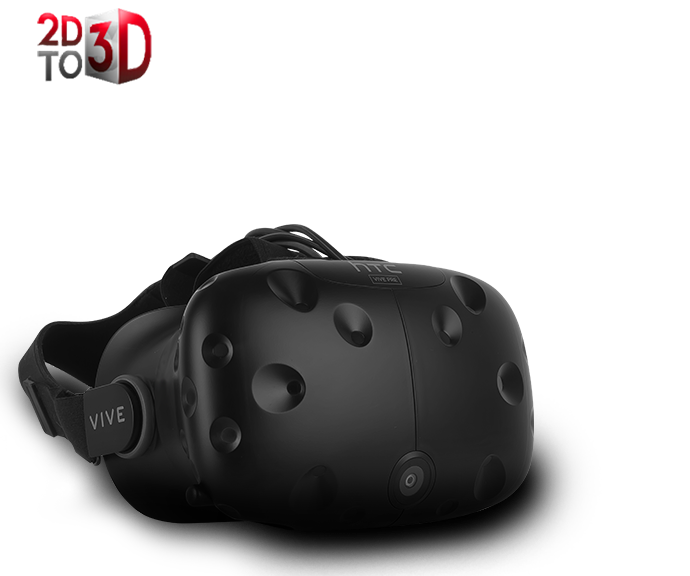 GAMING APP
The MSI Gaming App allows for one-click performance profiles that unlock extra performance for gaming or keep your card silent during light use. It also features the EyeRest tab, giving you easy access to image quality improving technology.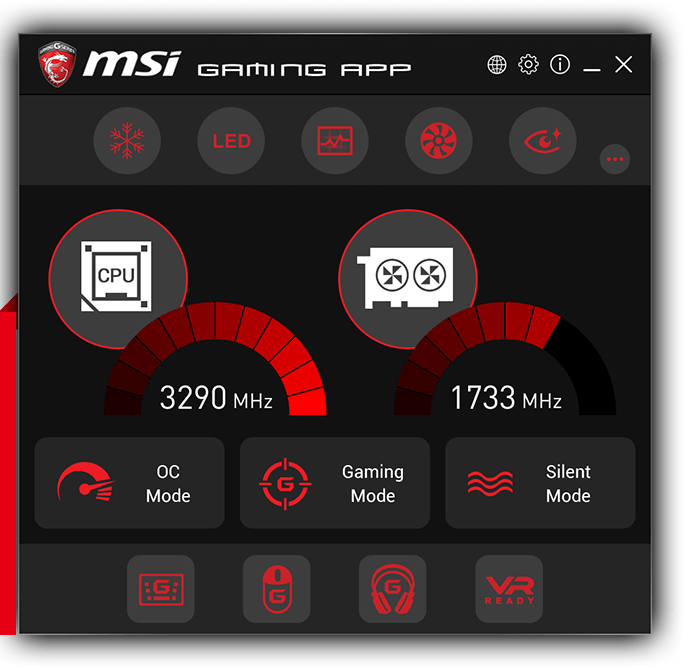 ON-SCREEN SPEED & TEMPERATURES
Real-time monitoring of GPU Core, DRAM Frequency, GPU & CPU Temperatures and much more, in game or in other fullscreen applications, customizable to your preference. gaming app
ios googleplay MOBILE GAMING APP
The exclusive MSI Gaming App is now also available for Android so you can control your graphics card from your phone without having to switch to Windows. AioDragonEye
A DIFFERENT VIEW ON GAMING
MSI Dragon Eye allows you to watch a YouTube video or Twitch Stream while playing a game simultaneously. Simply add a link or stream to the Dragon Eye application and select the size, position, volume and transparency and start gaming. With a few hotkeys you can start/pause your video or set the volume.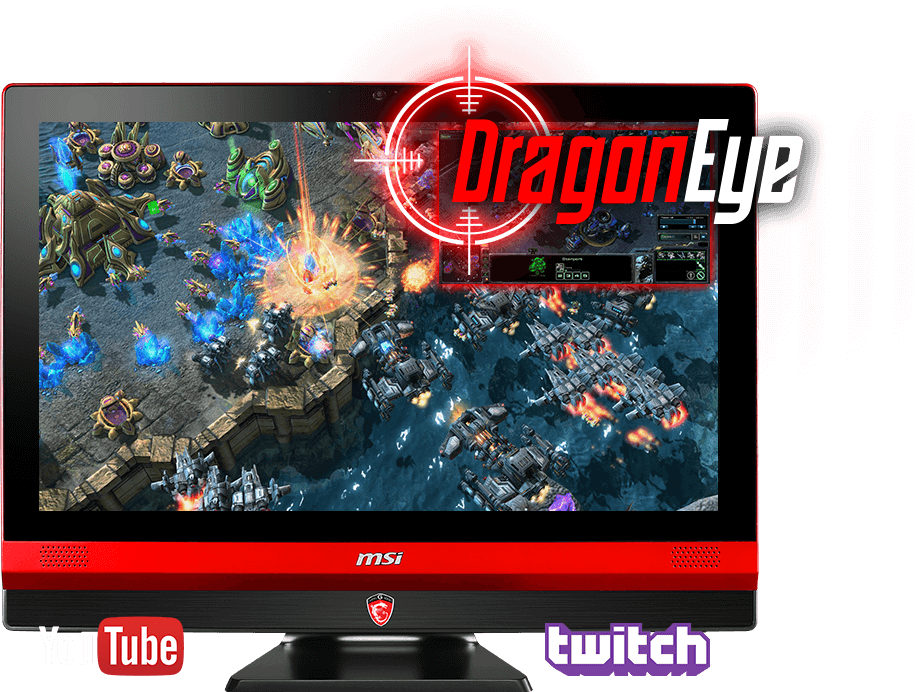 WANT TO SHOW OFF YOUR SKILLS OR JUST MAKE A FUN GAMING VIDEO FOR YOUR FRIENDS?
XSplit Gamecaster & Broadcaster V2 lets you easily record your gaming moments and broadcast your live gameplay sessions to Twitch, YouTube, UStream and more.
It's simple, easy to use and ideal for sharing your gameplay with friends, family or the world - Or for capturing those perfect gaming moments, just for the heck of it.
So what are you waiting for? Join the revolution and start streaming and recording with XSplit Gamecaster today.
WTFast is the Gamers Private Network ; like a global automated army of IT specialists all working together to optimize your game connection from end to end. WTFast reports rich connection stats for your online game, so you can see exactly what is happening with your game connection. Built just for MMO gamers
Reduce average ping
Greatly reduce connection flux, spikes and packet loss
MSI Exclusive 2-month premium license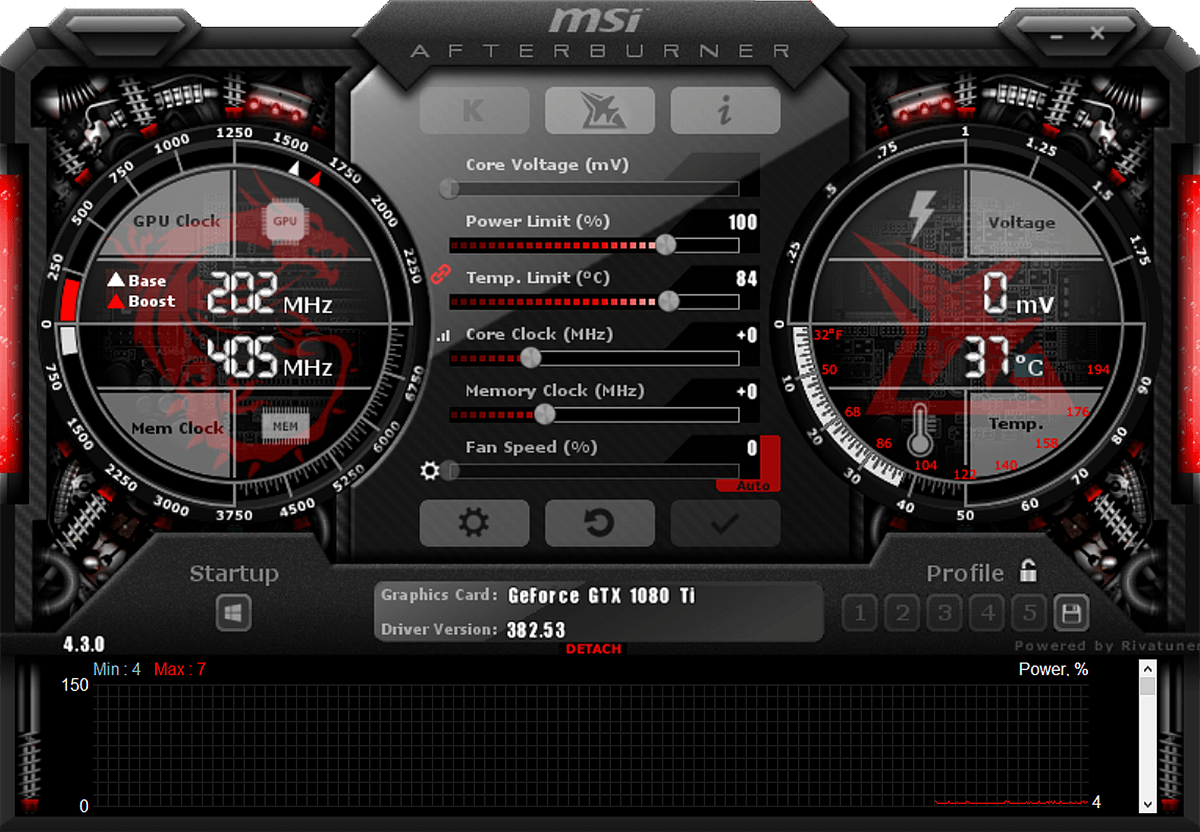 مشخصات فنی
GeForce® GTX 1080 Ti

PCI Express 3.0

11GB GDDR5X

1683 MHz / 1569 MHz (OC Mode)
1657 MHz / 1544 MHz (Gaming Mode)
1582 MHz / 1480 MHz (Silent Mode)

3584

11124 MHz (OC Mode) 11016 MHz (Gaming / Silent )

352-bit

DisplayPort x 2 (v1.4) / HDMI x 2 (v2.0) / DL-DVI-D

250 W 8-pin x 2

325 x 140 x 48 mm

شرکت گرین نماینده رسمی در ایران

کارت گرافیک MSI GeForce GTX1080 Ti GAMING X TRIO 11GB GDDR5X 11124 MHz Boost Clock 1683 MHz RGB Mystic Light TORX FAN 2.0
توليد کننده:
Msi Co